With enhanced recovery & relaxation.
Don't let pain and soreness slow you down. Exogun revives muscle, boosts circulation, and releases energy so you can recover faster and live better. Take it wherever you need it—work, the gym, the trail—and put the power of percussion massage treatment in your hands.
Portable, adjustable, and powerful, Exogun is trusted by the pros to deliver the ultimate in recovery.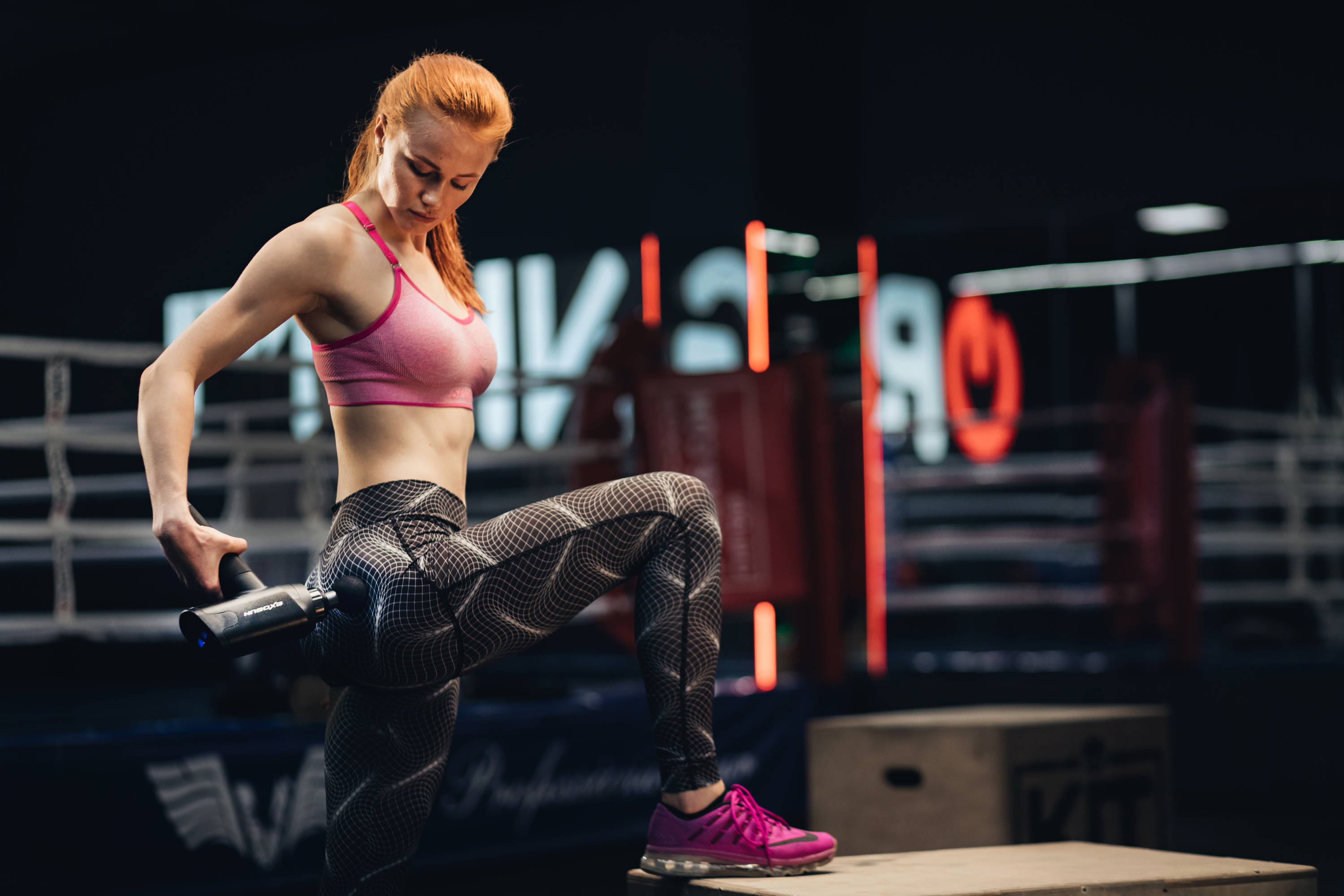 What is Percussion Therapy?

Percussion therapy boosts muscle function and recovery by penetrating deep into the muscle tissue with a series of rapid, concentrated pulsating strokes.
Gain back control of your body and achieve long-term pain relief with Exogun.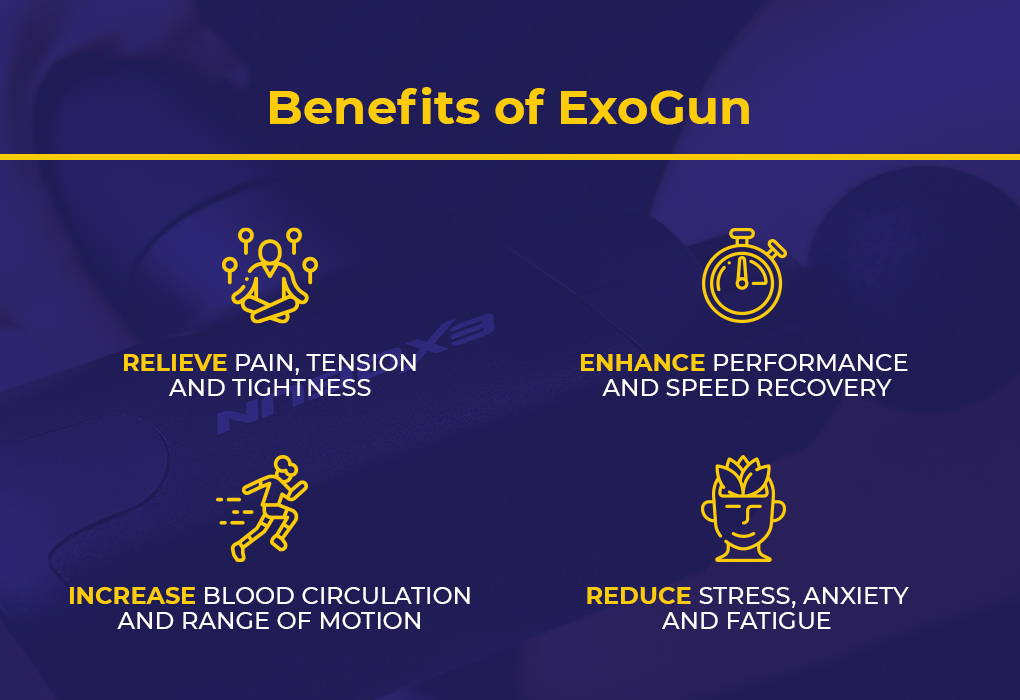 The ultimate percussive therapy treatment device for your body. It relieves pain, boosts performance and enhances recovery.
Scientifically formulated percussions to maximize pain relief, enhance performance, and accelerate muscle recovery.

Ultra powerful and high-performing motor for the deepest treatment and an unparalleled massage experience.

Cordless, quiet, and ultra lightweight for the most versatile recovery device ever made.

Customized Recovery:
6 Speeds & 4 Attachments

Easily switch between 6 speeds and 4 attachments for customized full-body recovery.

Highly Responsive:
ShockSmart Sensitivity

Exogun is built with ShockSmart sensitivity to deliver the exact percussive strength you need.
639 Muscles. 1 Versatile Design.

Made with anti-slip material designed for shock absorption to disperse the power of each stroke so you can confidently grip Exogun and use it with pinpoint accuracy.
Change the massager head to customize the impact your muscles need and help relax different parts of your body.
Choose between 6 speed settings to achieve the most effective massage intensity for each muscle.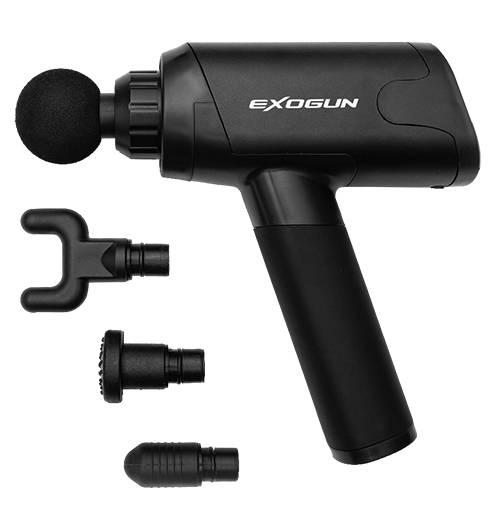 Trusted by 100+ Professional Athletes


Arthur Moats - NFL Linebacker (Steelers and Cardinals)

Karen Chen - USA Olympian Figure Skater

Kam Martin - NFL Runningback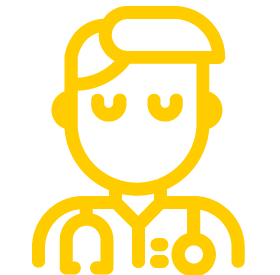 Invest in your well-being and start recovering now.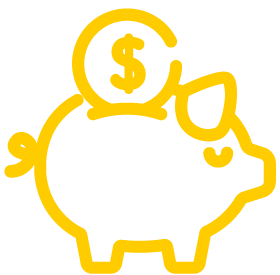 We are confident that you will love Exogun.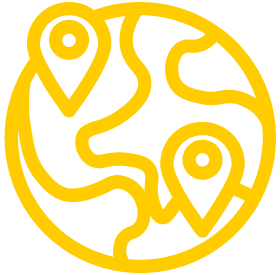 We process orders quickly and ship worldwide.
Proud of our worldwide community of ExoGun Enthusiasts






"I'm a semi-pro football player, and in this world, taking your game to the top means everything. Exogun cut my recovery times in half and helped me break barriers at the gym and on the field."
James Ness
9 SEP 2019
"I was a wrestler back in college, but even years later I suffered from poor range of motion in my shoulders and pain in my sciatic nerve. I felt a huge release in tension and an increased range of motion after using Exogun for just 2 minutes"
Jack Dayton
1 OCT 2019
"As a kindergarten teacher, I spend most of my life bent over or hauling a kid in each arm. I used to have constant joint and muscle pain but I couldn't afford a massage. Now, I use Exogun every day and have the energy do my job and to stay off the sofa in the evening"
Jessica Walker
15 APR 2019